The 21.5-inch self-service terminal dispensing multi-function self-service kiosk has the following advantages:
Large screen display: It has a 21.5-inch large screen, which can clearly display information and provide a better user visual experience.
Multifunctional design: Integrate multiple functions, such as dispensing, printing, scanning, payment, etc., to meet the diverse needs of users.
Self-service: Users can choose service content independently, reducing manual operations and improving service efficiency.
Touch screen operation: The use of touch screen operation simplifies the user's operation process and provides a more convenient service experience.
Imported dispensing: The dispensing function is reliable and stable, and is suitable for various scenarios, such as electronic product assembly, industrial manufacturing, etc.
Powerful data processing capabilities: Equipped with high-performance processors and large-capacity processors, it can quickly process large amounts of data.
Multiple payment methods: Supports multiple payment methods such as card swiping, QR code scanning, and NFC, making it convenient for users to make payments.
In short, the 21.5-inch self-service terminal dispensing multi-function self-service kiosk can provide users with advantages such as large-screen display, multi-functional design, self-service, touch screen operation, high-precision dispensing, powerful data processing capabilities and multiple payment methods. Provide a more convenient and efficient service experience to meet the diverse needs of users.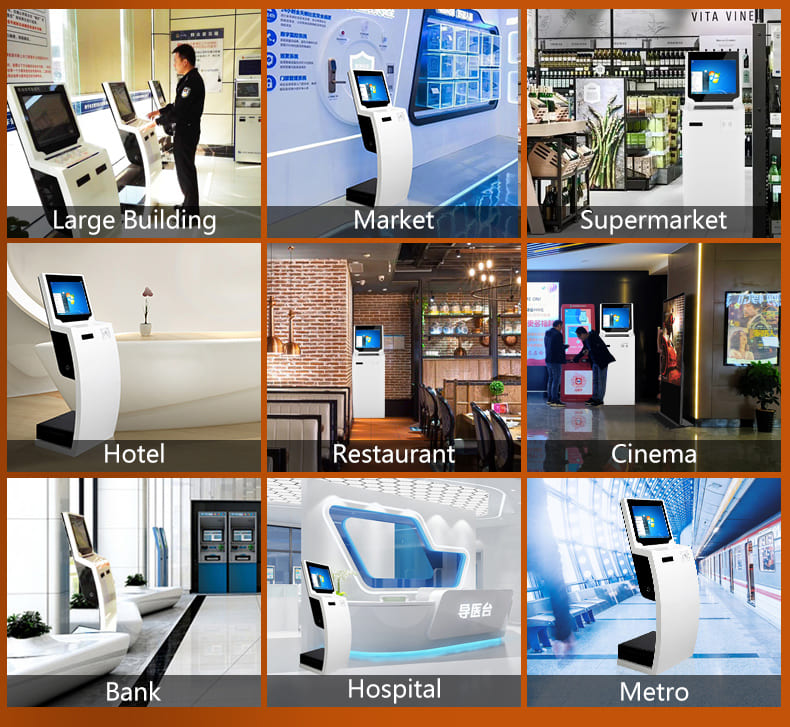 Guangzhou Chujie Information Technology Co., Ltd. is a high-tech enterprise specializing in the development and production ofhuman-computer interaction equipment and selF-service terminals with it's own-brand KER.
We have a professional product line andstrict quality management standards. With a professional technical service team and industry consulting team, we have leading productdesign and research and development capabilities.
After nearly ten years of industry accunulation and technology precipitation, the company has become a core service provider and solution provider for mainstream applications.
Gradually grows into a well-known brand in the touch industry and has won the"The National High-Tech Enterprise""Outstanding Suppliers Of GovernmentProcurement', "The Heavy Contract,Keep Promise AAA Level Enterprise" and other honors.
We possess dozens of patents and software copy rights. Our products are widely used in industrial and commercial tax affairs, adminitrative senvice centers, banks, medicals, hotels,communications, stations, airports, scenic spots, cinemas, specialty stores, schools, factories and other industries, with over 10,0oapplication cases worldwide.