Digital signage is a segment of electronic signage. Digital displays use technologies such as LCD, LED, projection and e-paper to display digital images, video, web pages, weather data, restaurant menus, or text. They can be found in public spaces, transportation systems, museums, stadiums, retail stores, hotels, restaurants and corporate buildings etc., to provide wayfinding, exhibitions, marketing and outdoor advertising. They are used as a network of electronic displays that are centrally managed and individually addressable for the display of text, animated or video messages for advertising, information, entertainment and merchandising to targeted audiences.

Digital signage is equipped with a multimedia information publishing system based on hardware integration integration. It can realize remote operations, centralized control, partition management, real-time update, to help enterprise to set up international media networks.
1.5mm galvanized sheet, the surface is sprayed with outdoor special powder, the protection ability is more than 7 years. The door is designed with a waterproof structure and is sealed with an outdoor rubber strip to meet the IP55 protection level.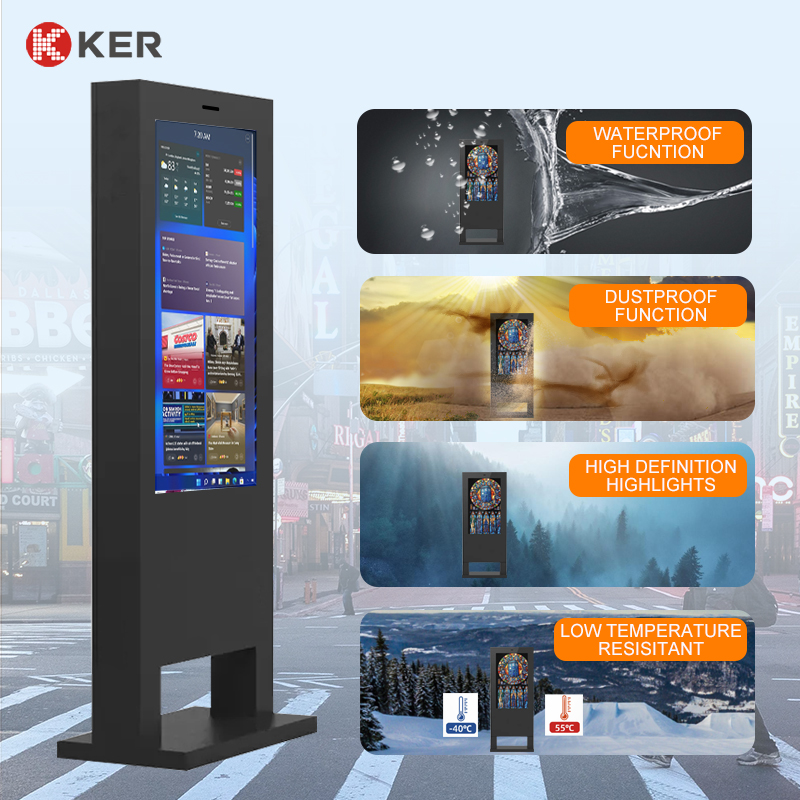 Outdoor stand floor digital signage charaters:
(1)4K high resolution display;
(2)High transmittance display;
(3)High brightness display;
(4)Industrial level CPU & motherboard;
(5)Android or Windows dual os optional;
(6) IP65 protection level;
(7)Automatic temperature control system;
(8) Automatic electricity control system;
(9)Fanair conditioner system (optional);
(10) Equipment ultra-long service life;
(11) Support program split screens display;
(12)BS structure of digital signage.