The RFID library automated management book kiosk for self-service book borrowing/lending has the following advantages:
Efficient and convenient: The borrowing and returning process is automated. Readers only need to place the books on the self-service kiosk, and the system will automatically identify the book information and complete the borrowing and returning operations, saving manual processing time and improving processing efficiency.
Accurate: Using RFID technology, the information of books and card readers can be accurately matched, avoiding human errors that may occur in the traditional manual borrowing and returning books, and ensuring the accuracy of borrowing and returning books.
Open 24 hours a day: The self-service kiosk can provide all-day borrowing and returning books. Readers no longer need to set library opening hours and can borrow and return books anytime and anywhere, which improves the library's service coverage.
Save labor costs: The automated management of self-service kiosks reduces the workload of manual borrowing and returning books, saves labor costs, and allows more personnel resources to be used in other library services.
Improved user experience: Self-service borrowing and returning books The self-service kiosk for borrowing and lending books provides a convenient and fast way to borrow and return books, which improves readers' borrowing and returning book experience and increases readers' satisfaction with the library.
In summary, the RFID library automated management book kiosks with self-service book borrowing/lending kiosks have the advantages of being efficient, convenient, accurate, open 24 hours a day, saving labor costs and improving user experience. It provides libraries with an advanced book borrowing and returning service method, making the borrowing and returning process more intelligent and convenient.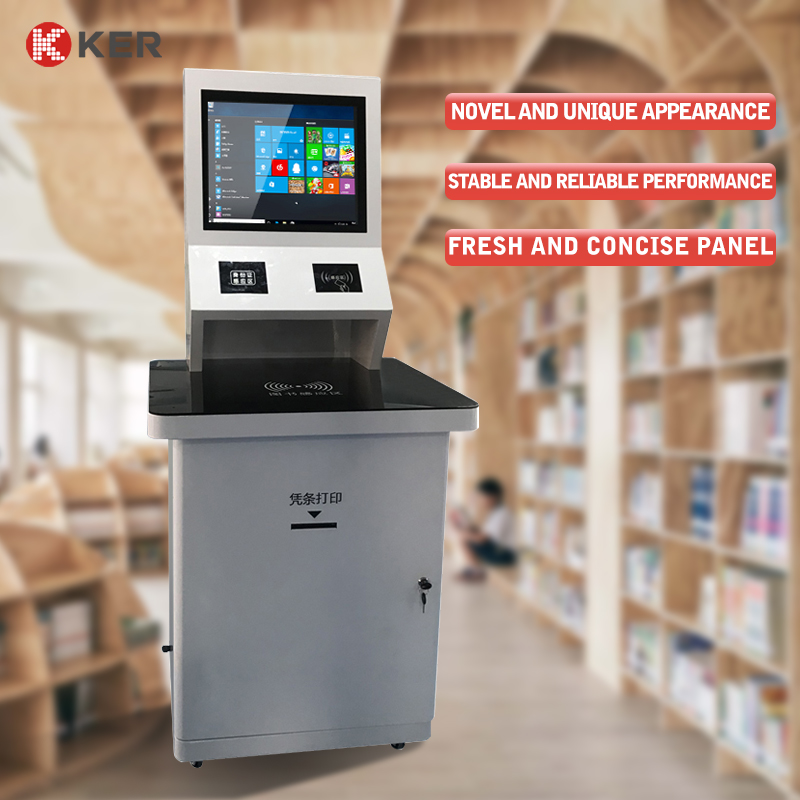 Guangzhou Chujie Information Technology Co., Ltd. is a high-tech enterprise specializing in the development and production ofhuman-computer interaction equipment and selF-service terminals with it's own-brand KER.We have a professional product line andstrict quality management standards.
With a professional technical service team and industry consulting team, we have leading productdesign and research and development capabilities.After nearly ten years of industry accunulation and technology precipitation, the company has become a core service provider and solution provider for mainstream applications.
Gradually grows into a well-known brand in the touch industry and has won the"The National High-Tech Enterprise""Outstanding Suppliers Of GovernmentProcurement', "The Heavy Contract,Keep Promise AAA Level Enterprise" and other honors. We possess dozens of patents and software copy rights.
Our products are widely used in industrial and commercial tax affairs, adminitrative senvice centers, banks, medicals, hotels,communications, stations, airports, scenic spots, cinemas, specialty stores, schools, factories and other industries, with over 10,0oapplication cases worldwide.