The self-service touch screen industrial LCD screen ticket multi-function self-service report collection terminal has the following advantages:
High-definition touch screen display: The terminal uses an industrial LCD screen with high resolution and brightly colored display effects. Users can operate intuitively through the touch screen, providing a better user experience.
Versatility: The terminal provides a variety of functions and services, such as enquiries, payments, printing tickets, etc. Users can complete multiple operations on the same terminal, which is convenient and fast.
Support bill printing: The terminal has a bill printing function, and users can choose whether to print relevant bills, such as shopping receipts, invoices, etc. This facilitates user recording and management.
Real-time data collection and report generation: The terminal can collect data in real time and generate corresponding reports based on user operations and needs. This helps users understand their consumption, query history, etc.
Provide security: The terminal uses advanced security technology and encryption measures to protect user privacy and transaction security. Users can safely use the terminal for various operations and payments.
24-hour uninterrupted service: The terminal can provide services around the clock without manual supervision. Users can complete operations on the terminal at any time without time restrictions.
Improve efficiency and save costs: Terminals can reduce manual labor and queue waiting time, and improve service efficiency. At the same time, the operating cost of the terminal is relatively low, which can save the company's human and material resources.
In summary, the self-service touch screen industrial LCD bill multi-function self-service report collection terminal has the advantages of high-definition touch screen display, multi-functionality, support for bill printing, real-time data collection and report generation, security guarantee, and 24-hour uninterrupted service. Able to provide a convenient, efficient and safe self-service experience.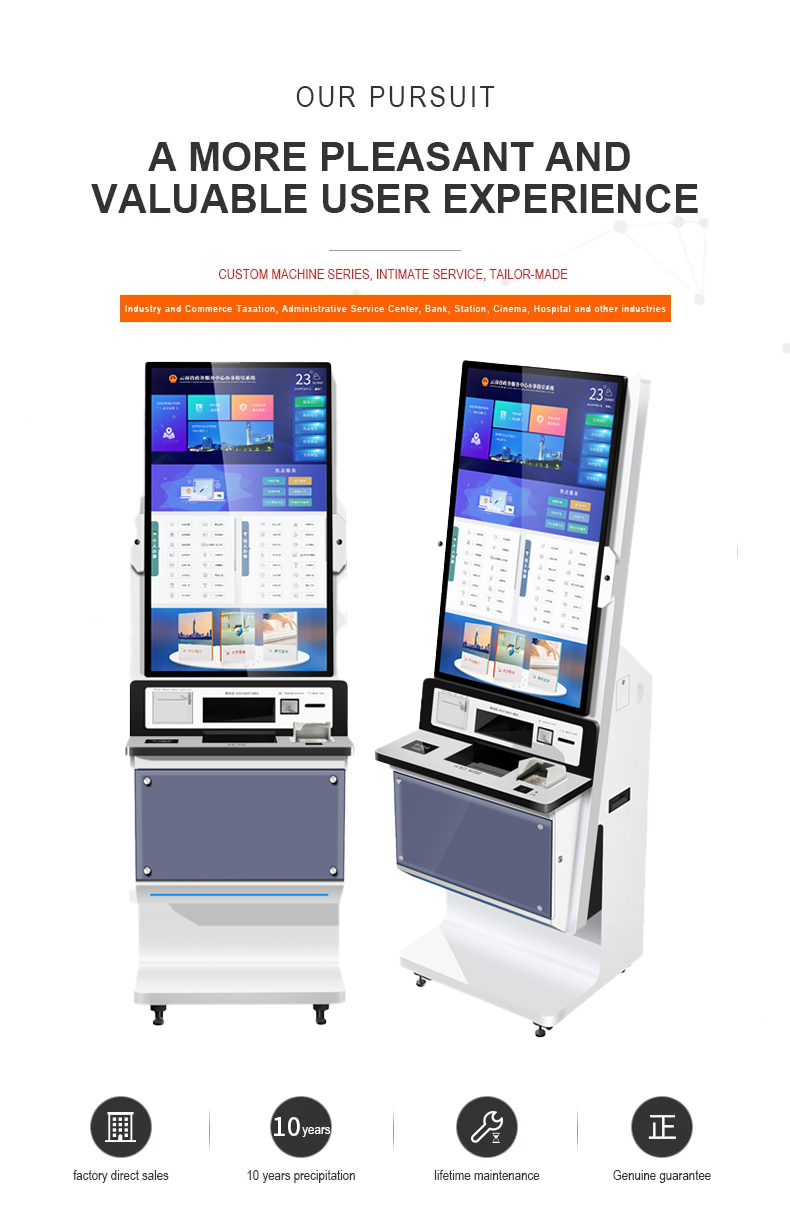 Guangzhou Chujie Information Technology Co., Ltd. is a high-tech enterprise specializing in the development and production ofhuman-computer interaction equipment and selF-service terminals with it's own-brand KER.
We have a professional product line andstrict quality management standards. With a professional technical service team and industry consulting team, we have leading productdesign and research and development capabilities.
After nearly ten years of industry accunulation and technology precipitation, the company has become a core service provider and solution provider for mainstream applications.
Gradually grows into a well-known brand in the touch industry and has won the"The National High-Tech Enterprise""Outstanding Suppliers Of GovernmentProcurement', "The Heavy Contract,Keep Promise AAA Level Enterprise" and other honors.
We possess dozens of patents and software copy rights. Our products are widely used in industrial and commercial tax affairs, adminitrative senvice centers, banks, medicals, hotels,communications, stations, airports, scenic spots, cinemas, specialty stores, schools, factories and other industries, with over 10,0oapplication cases worldwide.