43", 49", 55", 65" are different sizes of outdoor digital signage and displays. These displays are IP65 rated and suitable for outdoor environments. Outdoor vertical digital signage displays can be used to display various information and advertisements and are widely used outdoors. Advantages of outdoor digital signage and displays include:
High brightness: Outdoor displays usually have high brightness and can be clearly visible in the sun, ensuring effective communication of information.
Protection level: IP65 protection level means that these displays have high coating and waterproof performance, which can resist the influence of the external environment and ensure the stable operation of the equipment.
Durability: Outdoor digital signs and displays typically feature high-quality materials and designs that are extremely durable and capable of operating for long periods of time in statistically significant weather conditions.
Versatility: These displays can display a variety of information and advertisements, and content can be updated and changed as needed, providing more flexibility.
Interactivity: Some outdoor digital signs and displays also have touch functions, allowing users to interact with the display by touching the screen, providing a better user experience.
In summary, outdoor digital signage and displays have the advantages of high brightness, protection level, durability, versatility and interactivity, making them suitable for displaying information and advertising in outdoor environments.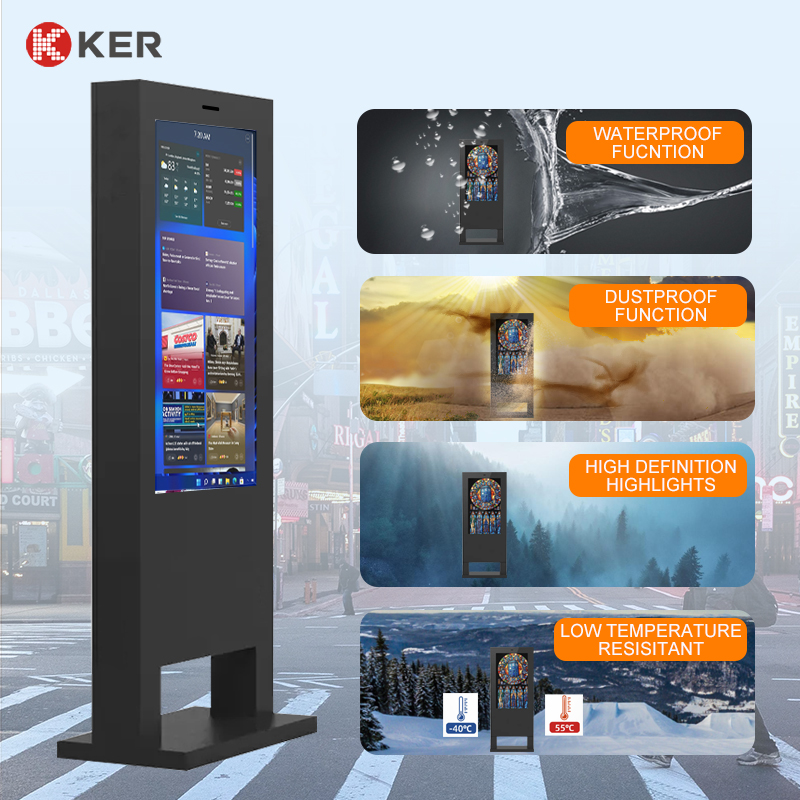 Guangzhou Chujie Information Technology Co., Ltd. is a high-tech enterprise specializing in the development and production ofhuman-computer interaction equipment and selF-service terminals with it's own-brand KER.
We have a professional product line andstrict quality management standards. With a professional technical service team and industry consulting team, we have leading productdesign and research and development capabilities.
After nearly ten years of industry accunulation and technology precipitation, the company has become a core service provider and solution provider for mainstream applications.
Gradually grows into a well-known brand in the touch industry and has won the"The National High-Tech Enterprise""Outstanding Suppliers Of GovernmentProcurement', "The Heavy Contract,Keep Promise AAA Level Enterprise" and other honors.
We possess dozens of patents and software copy rights. Our products are widely used in industrial and commercial tax affairs, adminitrative senvice centers, banks, medicals, hotels,communications, stations, airports, scenic spots, cinemas, specialty stores, schools, factories and other industries, with over 10,0oapplication cases worldwide.