The self-service ticket machine market refers to the equipment market that provides self-service ticket purchasing services. With the development of technology and lifestyle, more and more people choose to use self-service ticket machines to purchase tickets, work orders, tickets and other ticketing services to improve the efficiency and convenience of ticket purchasing.
The self-service ticket machine market has applications in various industries. For example, in the field of public transportation, self-service ticket machines can help passengers quickly buy tickets or swipe their cards to enter the station; in tourism shopping, self-service ticket machines can allow tourists to purchase tickets by themselves, avoiding Waiting in line; in entertainment venues such as cinemas and theaters, self-service ticket machines allow audiences to choose their seats and purchase movie or performance tickets.
The competition in the self-service ticket machine market is becoming increasingly fierce, with various manufacturers constantly launching new products and services to meet the needs of different industries and users. Some self-service ticket machines also have advanced functions such as facial recognition and mobile payment, providing a more intelligent and convenient ticket purchasing experience.
As people's pursuit of convenience and efficiency continues to increase, the self-service ticket machine market is expected to continue to expand. At the same time, with the development of technology and the increase in application scenarios, the self-service ticket machine market will continue to innovate and develop.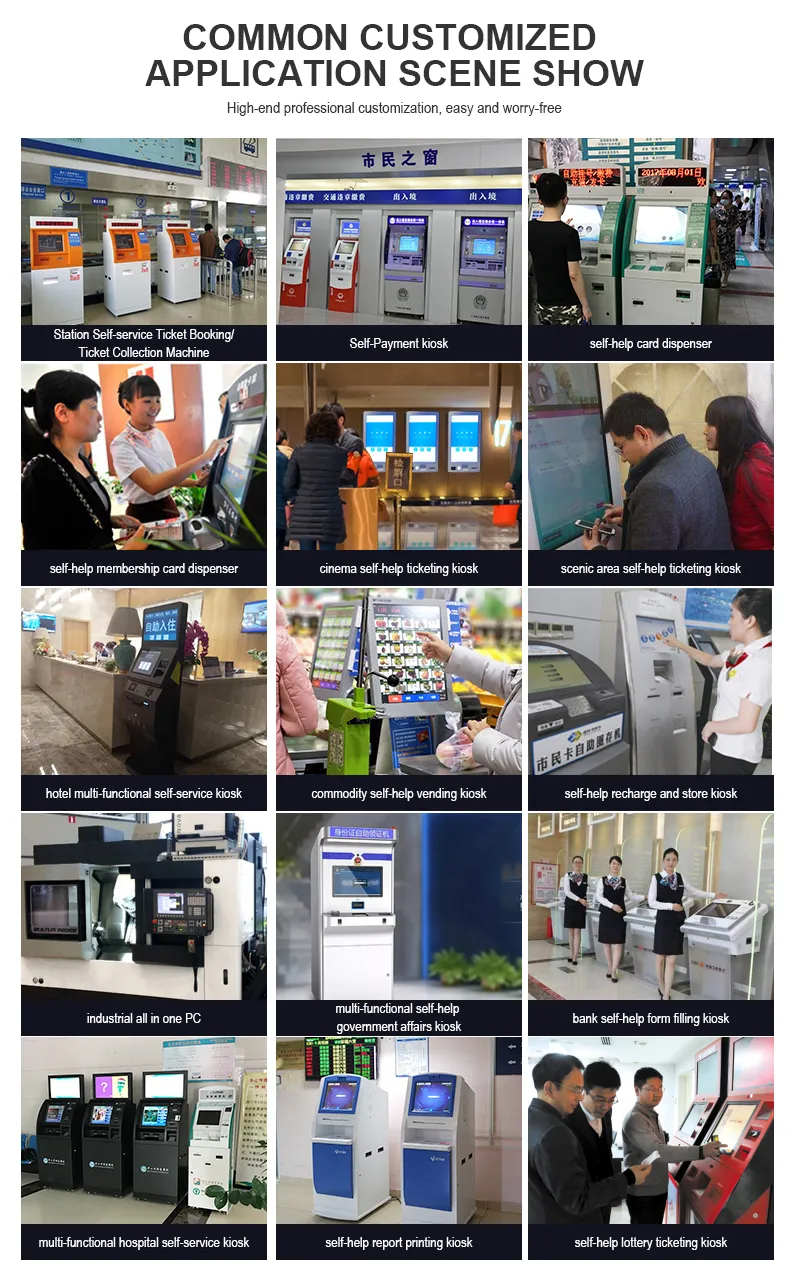 Guangzhou Chujie Information Technology Co., Ltd. is a high-tech enterprise specializing in the development and production ofhuman-computer interaction equipment and selF-service terminals with it's own-brand KER.
We have a professional product line andstrict quality management standards. With a professional technical service team and industry consulting team, we have leading productdesign and research and development capabilities.
After nearly ten years of industry accunulation and technology precipitation, the company has become a core service provider and solution provider for mainstream applications.
Gradually grows into a well-known brand in the touch industry and has won the"The National High-Tech Enterprise""Outstanding Suppliers Of GovernmentProcurement', "The Heavy Contract,Keep Promise AAA Level Enterprise" and other honors.
We possess dozens of patents and software copy rights. Our products are widely used in industrial and commercial tax affairs, adminitrative senvice centers, banks, medicals, hotels,communications, stations, airports, scenic spots, cinemas, specialty stores, schools, factories and other industries, with over 10,0oapplication cases worldwide.